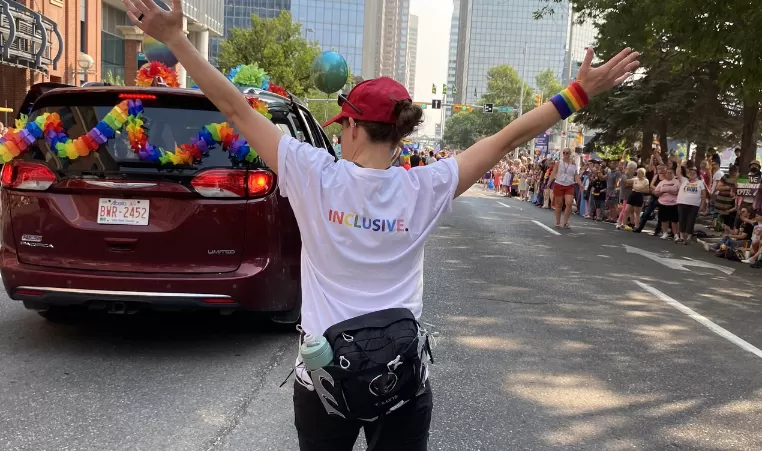 Calgary Pride Week is a time to celebrate the diversity and unique experiences of 2SLGBTQIA+ individuals across our city. Starting on August 26, Calgary Pride Week brings our city to life, ending with a burst of colour on September 3 with the annual Pride Parade. Beyond the fun and festivities, Pride Week holds significance that resonates with YMCA Calgary.  
"At the YMCA, we see strength in our differences and inspiration in our diversity. Calgary Pride Week provides the opportunity to stand with our community and show that regardless of gender identity, gender expression or sexual orientation, this community is for everyone," says Shannon Doram, President and CEO. 
At YMCA Calgary, we believe that diversity, equity, and inclusion are essential pillars of creating vibrant and thriving communities.  
"Whether you are attending your first ever pride parade or you've been an ally for years, showing up can be a deeply meaningful experience," says Dean Paddock, Vice President, Community Engagement. "My appreciation to all the people who actively support the advancement of inclusion at YMCA Calgary during Pride Week and every day."  
A wide range of events are taking place across the city to celebrate Pride Week. We encourage you to participate where you can, and celebrate with us!  
Pride Week Events
TD Block Party 
Tuesday, August 29, 6 - 10 p.m. 
Our friends at TD are holding their annual Pride Block Party on Tuesday, August 29th at the ContainR site in Sunnyside. This free, all-ages event will feature food trucks, a beer garden, kids activities, live entertainment and much more! No registration is required.  
Calgary Pride Festival 
September 2 & 3 
Join Calgary Pride for two days of free events and performances to celebrate their annual Calgary Pride Parade and Festival. You will experience the vibrant energy of the local 2SLGBTQIA+ community.  
The Pride Festival is returning to Prince's Island Park, where you can catch performances by Synthia Kiss, Kendall Gender, and Bratpack, alongside other amazing local talent and DJs. They will also have beer & sober gardens, food trucks, a curated marketplace, and more. 
For more events hosted by Calgary Pride, check out their Community Calendar.  
Climbing Wall Meet and Greet  
Saddletowne YMCA, Friday August 25, 1:30 p.m. - 3:30 p.m. 
Saddletowne YMCA is hosting a free Climbing Wall Meet and Greet to extend a warm welcome to 2SLGBTQIA+ individuals who are newcomers to Canada. Join YMCA Calgary, Centre for Newcomers, and True Colors Calgary, as we come together to celebrate the 2SLGBTQIA+ newcomer communities, foster connections, and have some fun on the climbing wall.  
Pride Brunch in support of Camp fYrefly 
September 2, 10:30 a.m.   
Each year during Pride Week, Camp Chief Hector YMCA hosts Camp fYrefly, a camp for 2SLGBTQIA+ youth supported by the Centre for Sexuality. This is a retreat where 2SLGBTQIA+ campers ages 14 – 20 explore their identity, build resilience, enhance self-esteem and develop leadership skills.  
Join the Centre of Sexuality for a brunch in support of Camp fYrefly. You will receive a spectacular brunch from the Hyatt, heartwarming speeches and performances from youth, drag performances, and more.  
Calgary Pride Parade  
Sunday, September 3 
YMCA Calgary will be participating in the annual Pride Parade hosted by Calgary Pride. The parade will take place at 11 a.m. on September 3. We will be marching along 9th avenue, starting at 4th street and ending at Fort Calgary. Come on down, and make sure to dance with us as we pass by!