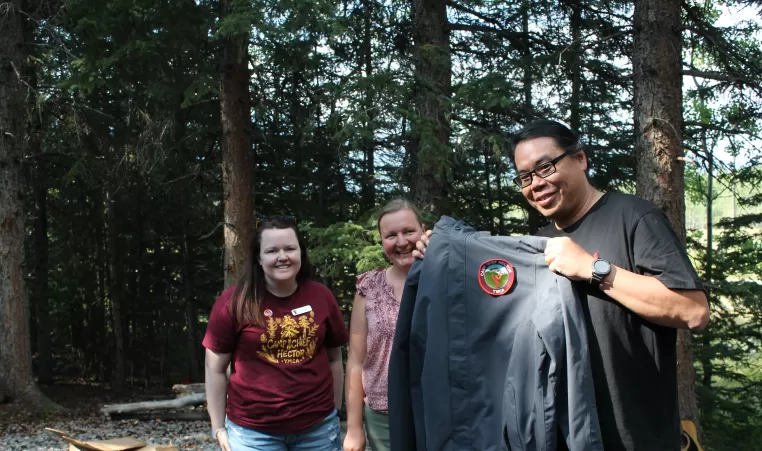 Meet Norm Wong, YMCA Calgary donor and staff at Camp Chief Hector YMCA. Norm's journey with the YMCA dates back to the 1990s. Back then, he was a high school counselor and more: he was also a beacon of inspiration, working as a camp counselor through every season, eventually finding himself behind the wheel of the Camp Chief Hector vehicles. But his story doesn't end there.
When the summer sun bids adieu and fall approaches, Norm steps into a different role—that of a teacher. For the past 18 years, he's selflessly shared his knowledge with young minds. He said this was nurtured by his time at Camp Chief Hector YMCA. It was here, amidst the towering mountains and sprawling wilderness, that Norm discovered his love for guiding and teaching youth. 
As Norm reminisces, his eyes light up with memories of days gone by: "I remember distinctly how much I was paid back in the day, thinking to myself that one day I would like to pay it forward and help kids who come from different environments so they may be able to come to the mountains." 
Although he grew up in the heart of the city, Norm found home in nature. Camp Chief Hector etched in him a love for the outdoors. His desire to share these transformative experiences with others led him down a path of supporting camp and campers through donations. His motivation stems from the mentors who sculpted his own growth—something he is now paying forward for the next generation. 
In a world full of opportunities to make a difference, Norm's steadfast belief is that the YMCA stands as a beacon of hope and empowerment: "If people have a way to help others and are willing too, the Y is a great avenue to do so. You may help physically, financially, or any way you can because I believe that any help is better than no help at all." 
To Norm, the YMCA is more than an organization—it's a sanctuary of passion and purpose. He believes that this passion is the cornerstone upon which the YMCA's impact rests. He speaks fondly of sharing these sparks of inspiration with others, igniting a wildfire of enthusiasm that spreads throughout the community - it's passion that sets the YMCA apart from the rest. 
Norm Wong, a teacher, mentor, storyteller, and above all, a symbol of compassion, carries forward the legacy of the YMCA with an open heart and an unwavering commitment. His story is a reminder that the power of generosity can shape not only individuals but entire communities, helping provide spaces that are welcoming and inspiring. 
Norm and others like him embody hope — the hope of turning dreams into memories for those that need it.
Learn how you can give others the opportunity to make unforgettable memories. Visit https://www.ymcacalgary.org/ways-give